Welcome Remarks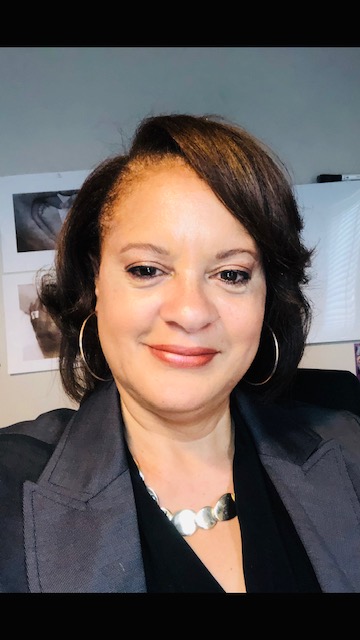 Stephanie Brown, Co-Chair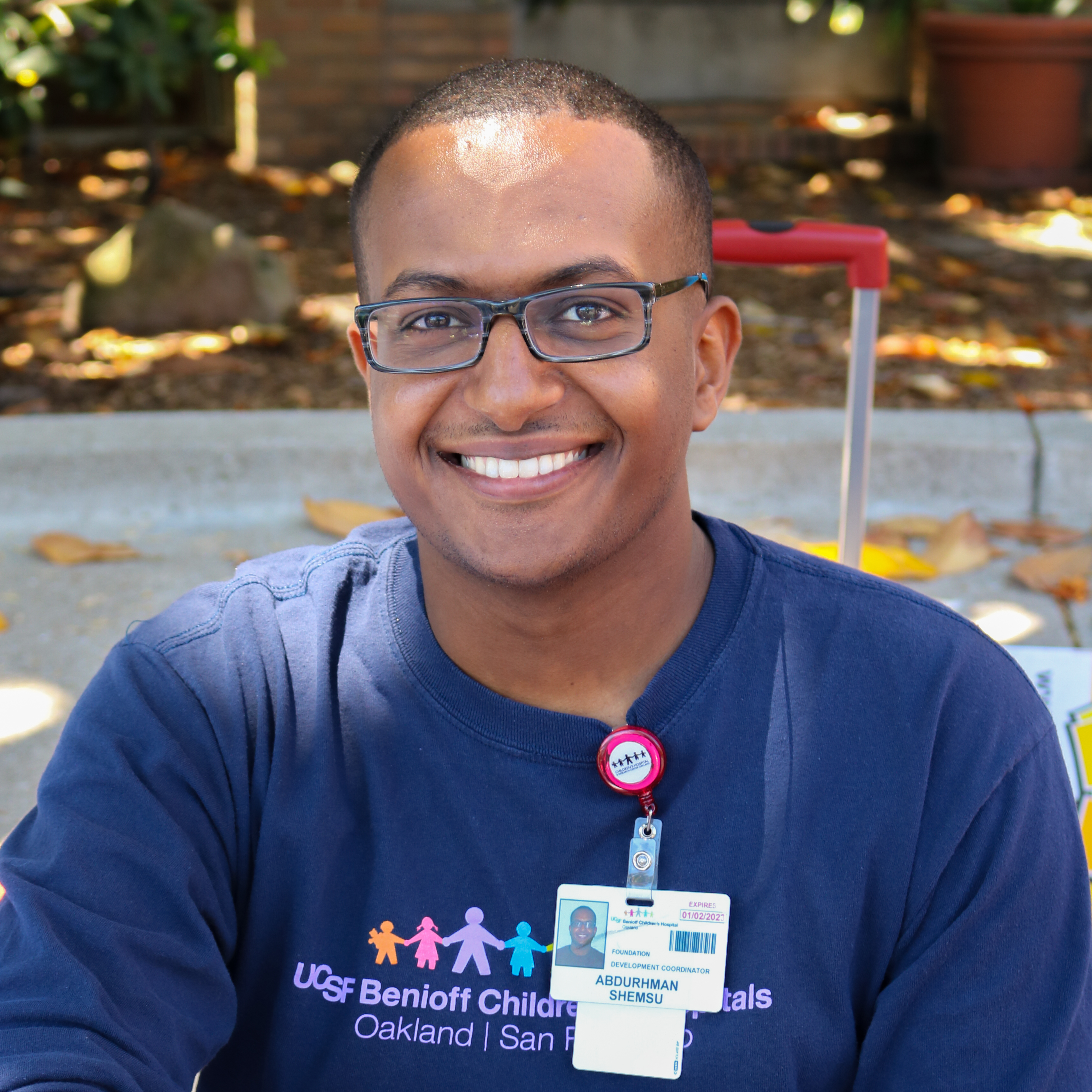 Abdur Shemsu, Co-Chair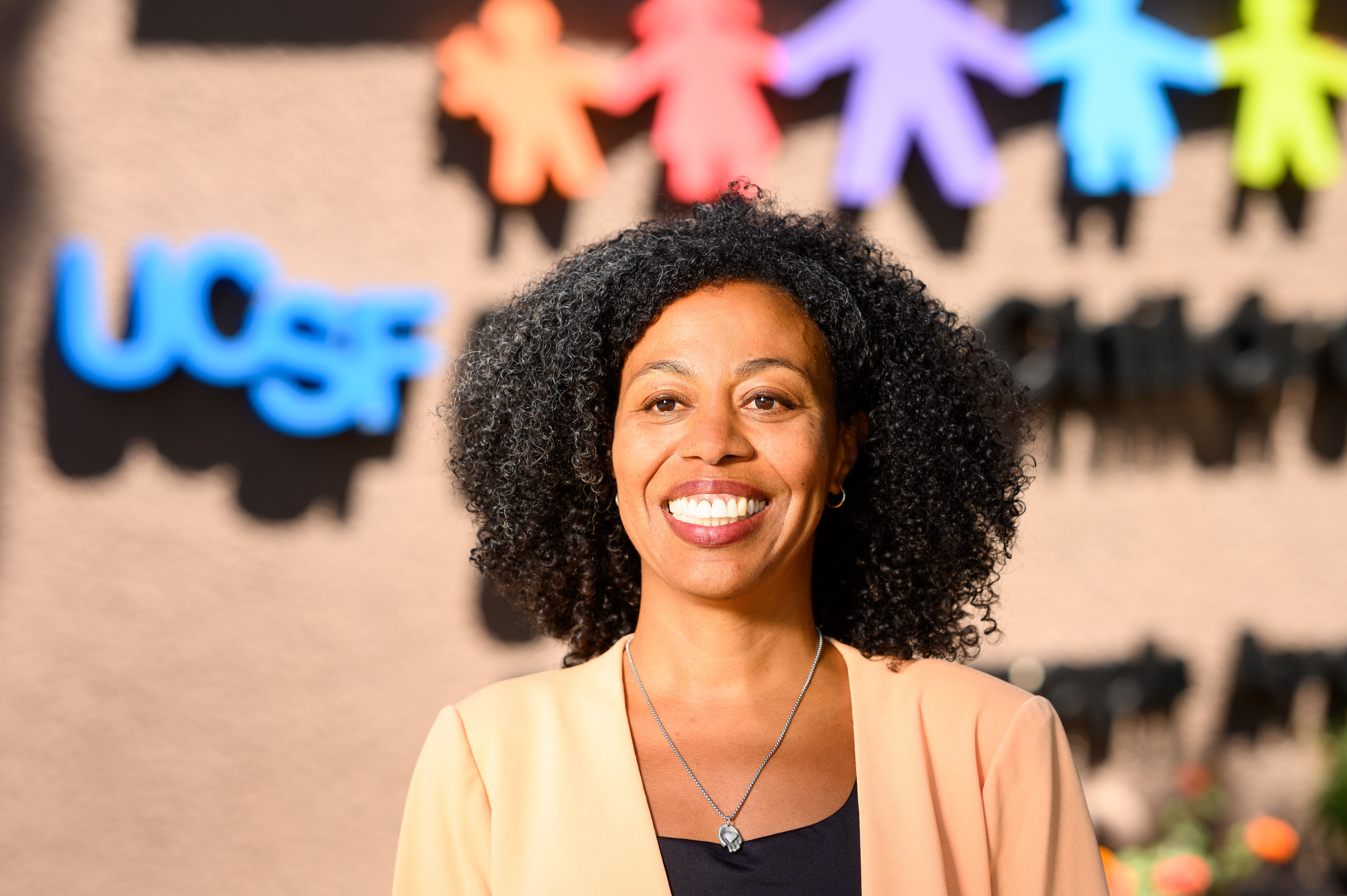 Saun-Toy Latifa Trotter, Black Caucus Advisor
The mission of the BCH Black Caucus is to help foster a hospital climate and culture of unity, equity, and inclusion. The group will serve as a resource for advancing the social and cultural growth among African American care providers and staff through outreach, mentoring, networking, community service, and enrichment activities. In collaboration with our counterparts in San Francisco, hospital leadership, the BCH DEI/AR Council and other affinity groups, our goals include:
To increase diversity among our care providers and staff in collaboration with BCH DEI/AR
To create a safe space to speak freely about institutional inequities at BCH
To develop and cultivate career growth opportunities for people of color
Black Women in Leadership Roundtable Discussion
Thursday, March 30th | 4-5pm
Sheila Antrum, Senior VP/Chief Operating Officer at UCSF Health
Tonia Suber, VP and Chief People Officer, BCH
Rechelle Porter, Manager Child Life & Creative Arts, BCH Oakland 
Brandie Hollinger Quao, Unit Director, Pediatric Intensive Care Unit
Dr. Dayna Long, Medical Director, Center for Child and Community Health
Moderated by:
Saun-Toy Trotter, MFT, Clinical Director, School-Based Behavioral Health and Health Education
---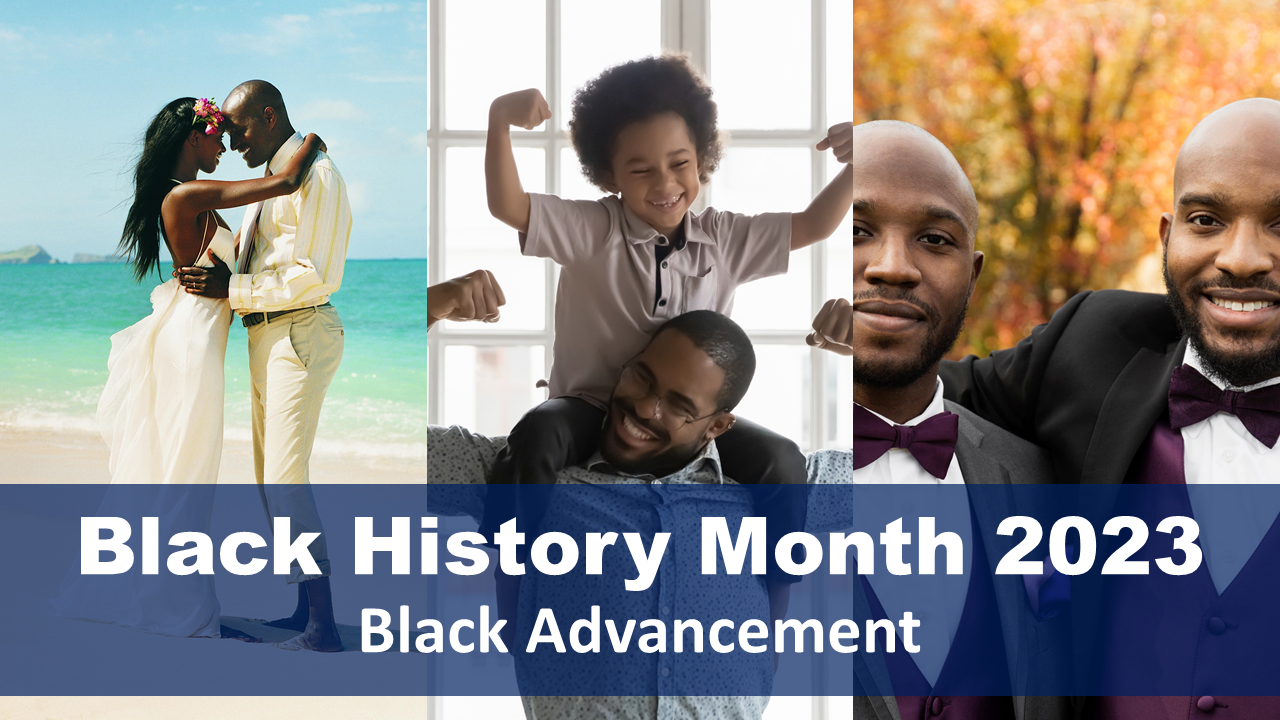 This year we celebrate Black History Month with a theme of Black Advancement. This is a call to action for all of us to promote education, provide access and boldly demand inclusion for members of our Black community in all areas of the American experience. Everyone needs to be educated on the systemic oppression that remains as an obstacle to generational wealth, educational opportunities, and equitable healthcare. We must find ways to help navigate the labyrinth of hurdles that were designed to prevent Black people from gaining access to resources. It will also be necessary to refuse the legitimacy of any initiative that does not include the perspective and input of all members of our society. Together we can find ways to bring about the advancement of Black people in every aspect of life by incorporating intention and purpose.
---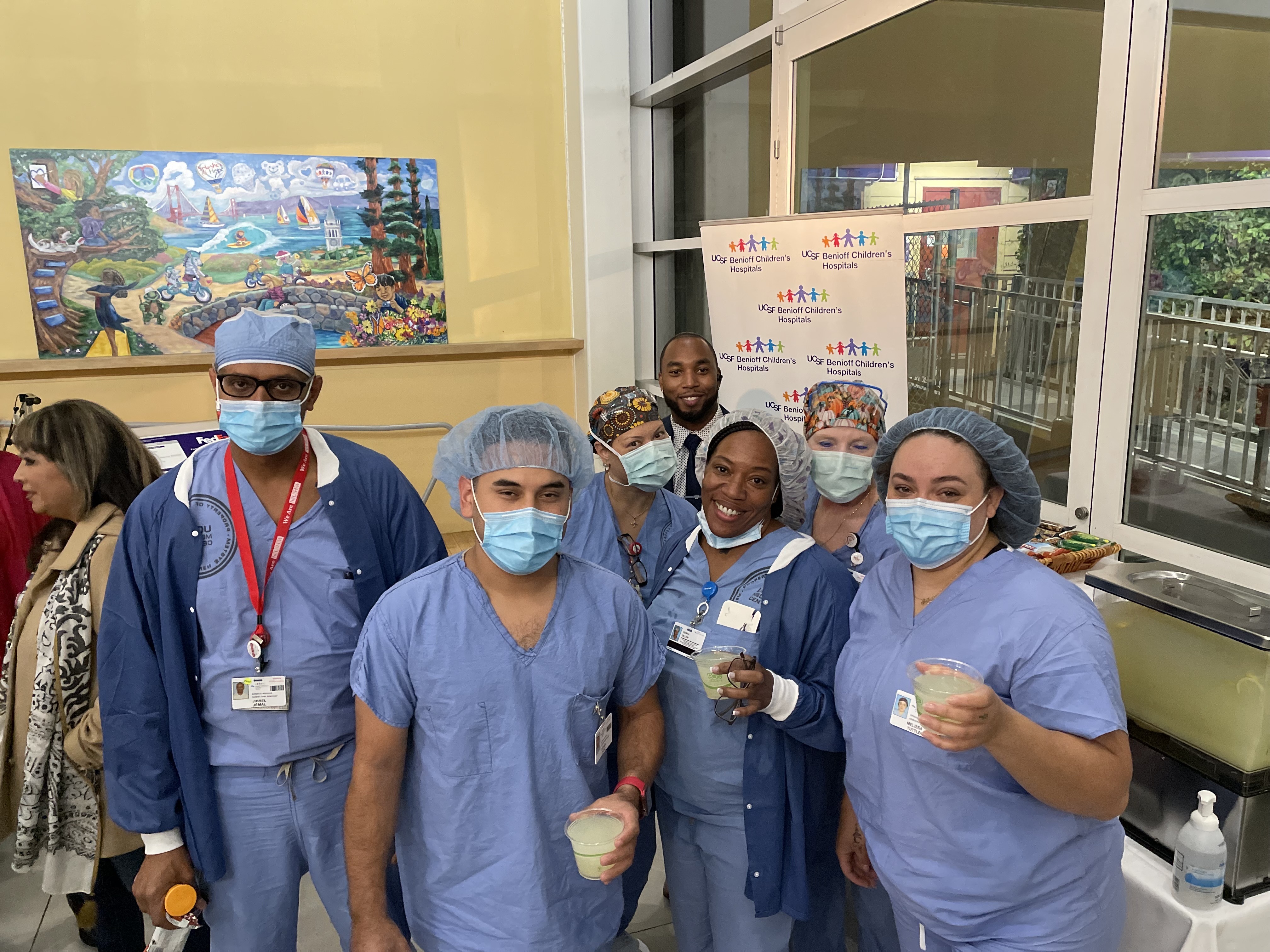 Social Mixer with BCH Chicanx Latinx Campus Association 
Thursday, November 17, 2022 | 5 pm - 6 pm 
The BCH Black Caucus & BCH Chicanx Latinx Campus Association held a mixer on Thursday, November 17th 5:00-6:00 pm, in the Oakland hospital courtyard. The purpose of the mixer is to increase staff engagement and employee morale among our BIPOC staff and providers. Over the last three years, since the beginning of the COVID-19 pandemic, we've had very few staff events that have allowed our employees to connect and collaborate across the hospital. This was evident in the staff survey, which showed a decrease in staff morale amount BIPOC employees. This event allowed our two largest affinity groups to connect and engage with one another/and hospital leadership in a collegial atmosphere.
---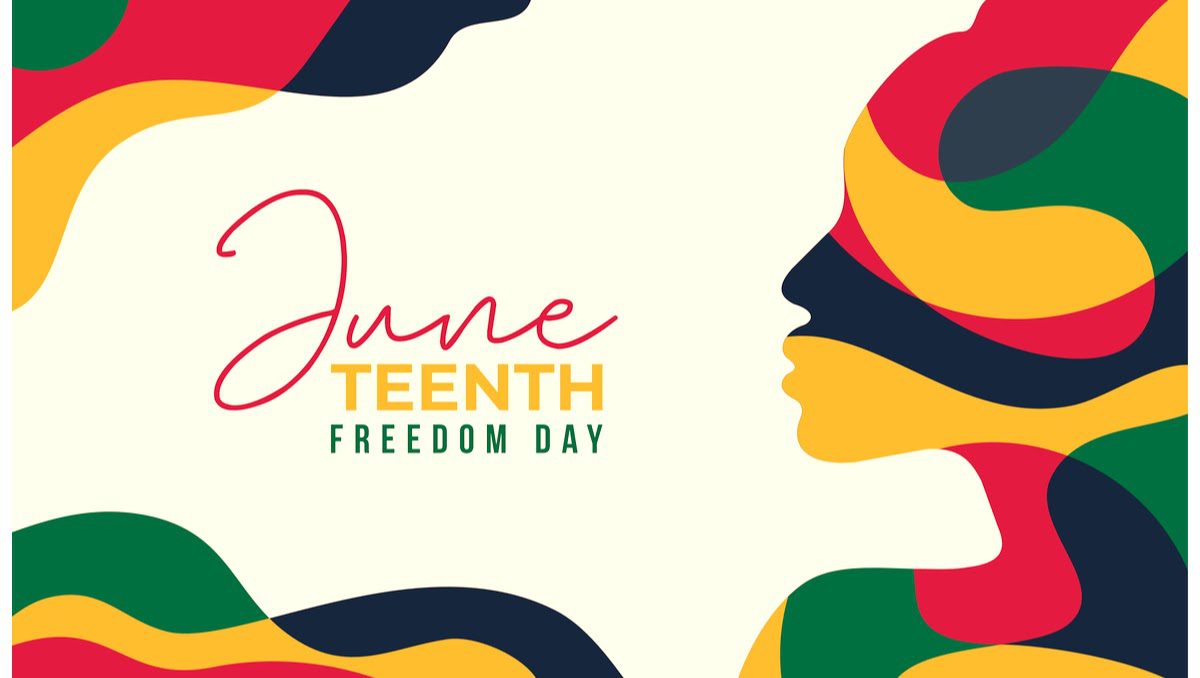 Please join us as we gather to honor and celebrate this important day in history. Enjoy delicious food, refreshments, music and dancing! All are welcome!
Juneteenth is the oldest nationally celebrated commemoration of the ending of slavery in the United States. From its Galveston, Texas origin in 1865, the observance of Juneteenth as the African American Emancipation Day has spread across the United States and beyond
Thursday, June 16, 2022 | 4:30pm-6:00pm
MLK Building Courtyard (CHORI)
---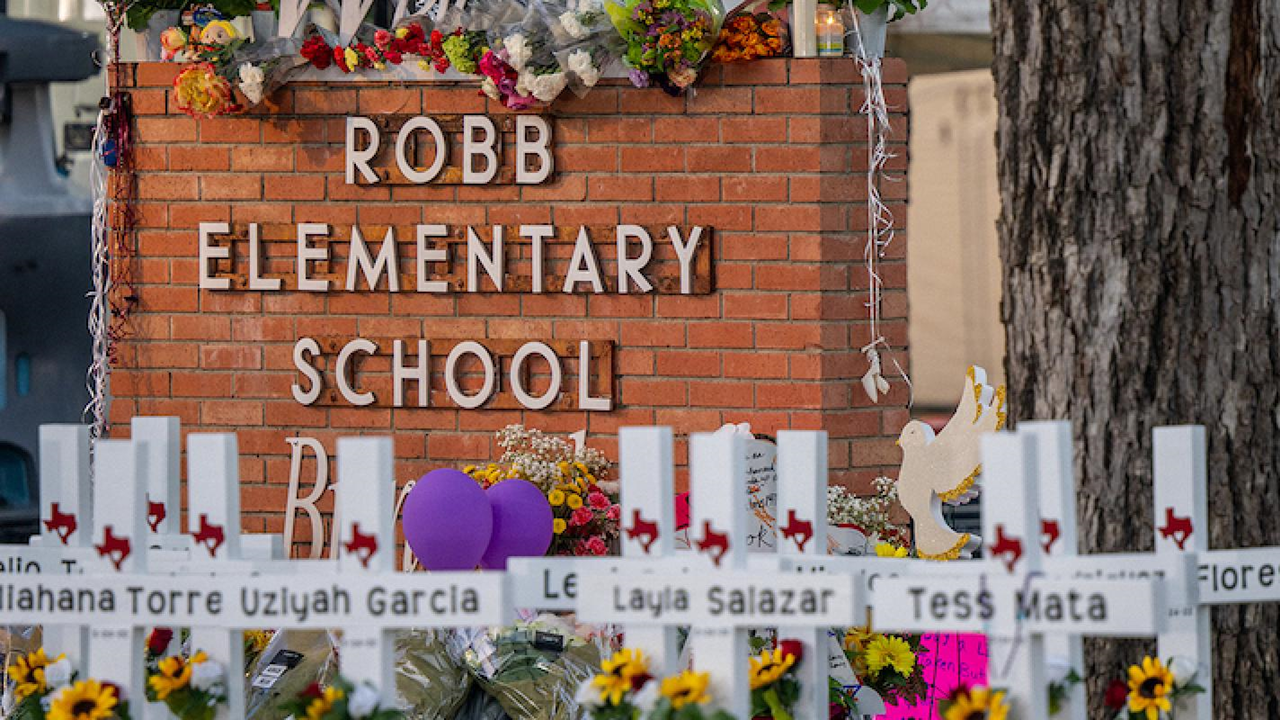 Thursday, June 2, 2022 | 12 pm – 12:30 pm
As we continue to process and grieve the loss of life that resulted from the recent horrific events in Uvalde, TX, and Buffalo, NY, BCH had set aside some much-needed time to come together collectively to gain comfort from one another and acknowledge the pain that we all are experiencing. The webinar included opening remarks from BCH leadership, testimonials from the BCH Black Caucus and the BCH Chicanx Latinx Campus Association, a reflection from Spiritual Care Services, and sharing of some opportunities for collective actions that our BCH community can take toward positive change.
---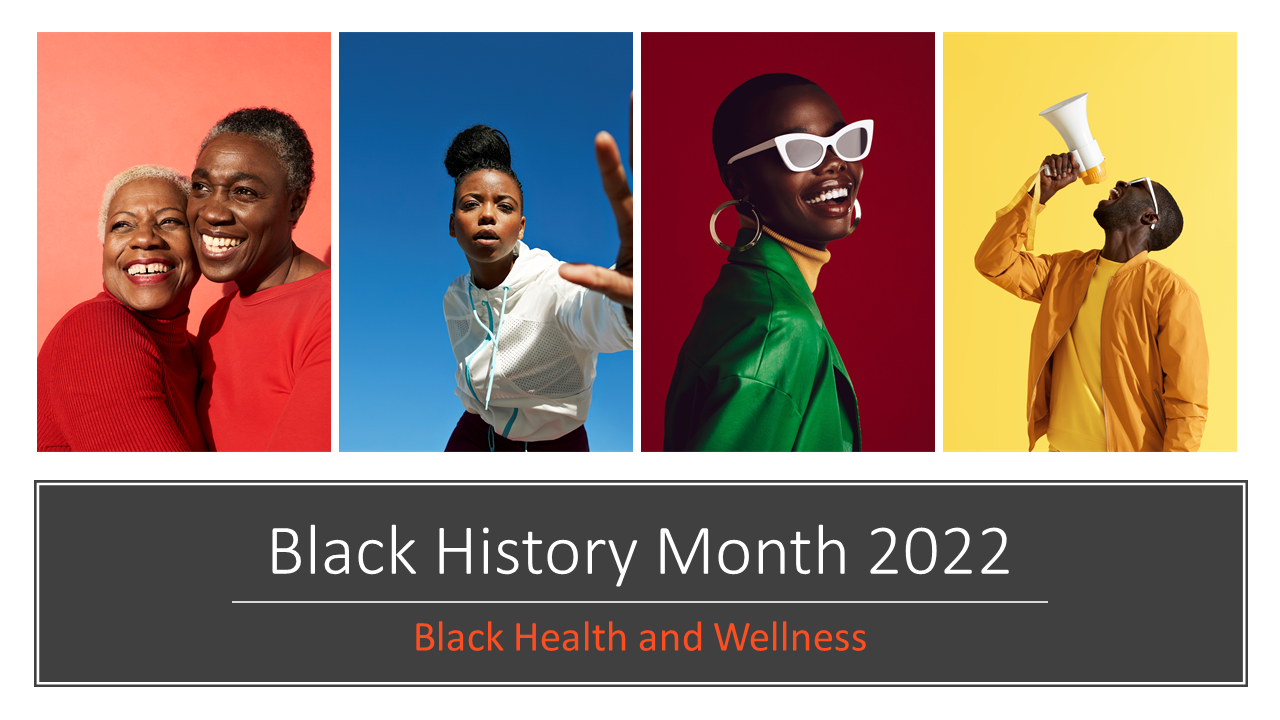 Black History Month celebrates the rich and diverse cultures, traditions, and history and acknowledges the important contributions of African Americans/Black People in the United States. The theme for 2022 focuses on the importance of Black Health and Wellness.
BCH Black Caucus is collaborating with the various UCSF Black groups in organizing events, resources, and information for the Black History Month.
---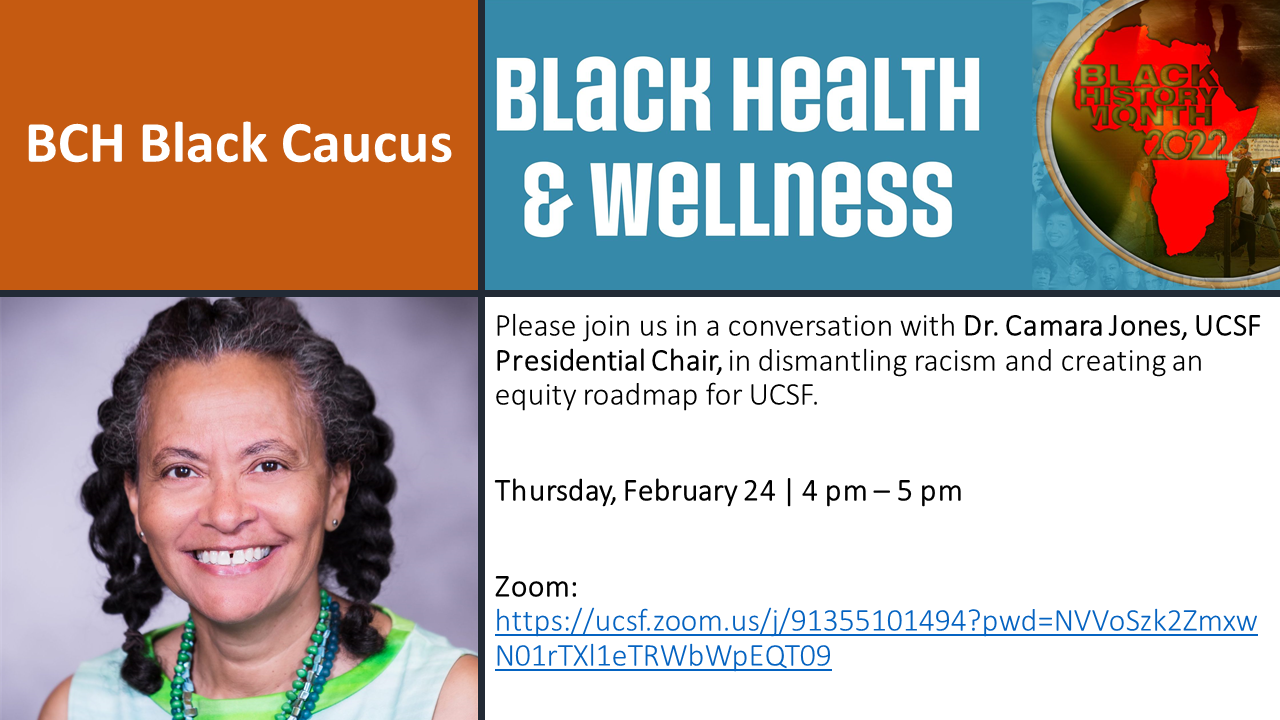 BCH Black Caucus presents: A Conversation with Dr. Camara Jones
Thursday, February 24, 2022 | 4 pm - 5 pm 
Come join us at the monthly BCH Black Caucus meeting in a conversation with Dr. Camara Jones, UCSF Presidential Chair, in dismantling racism and creating an equity roadmap for UCSF. 
---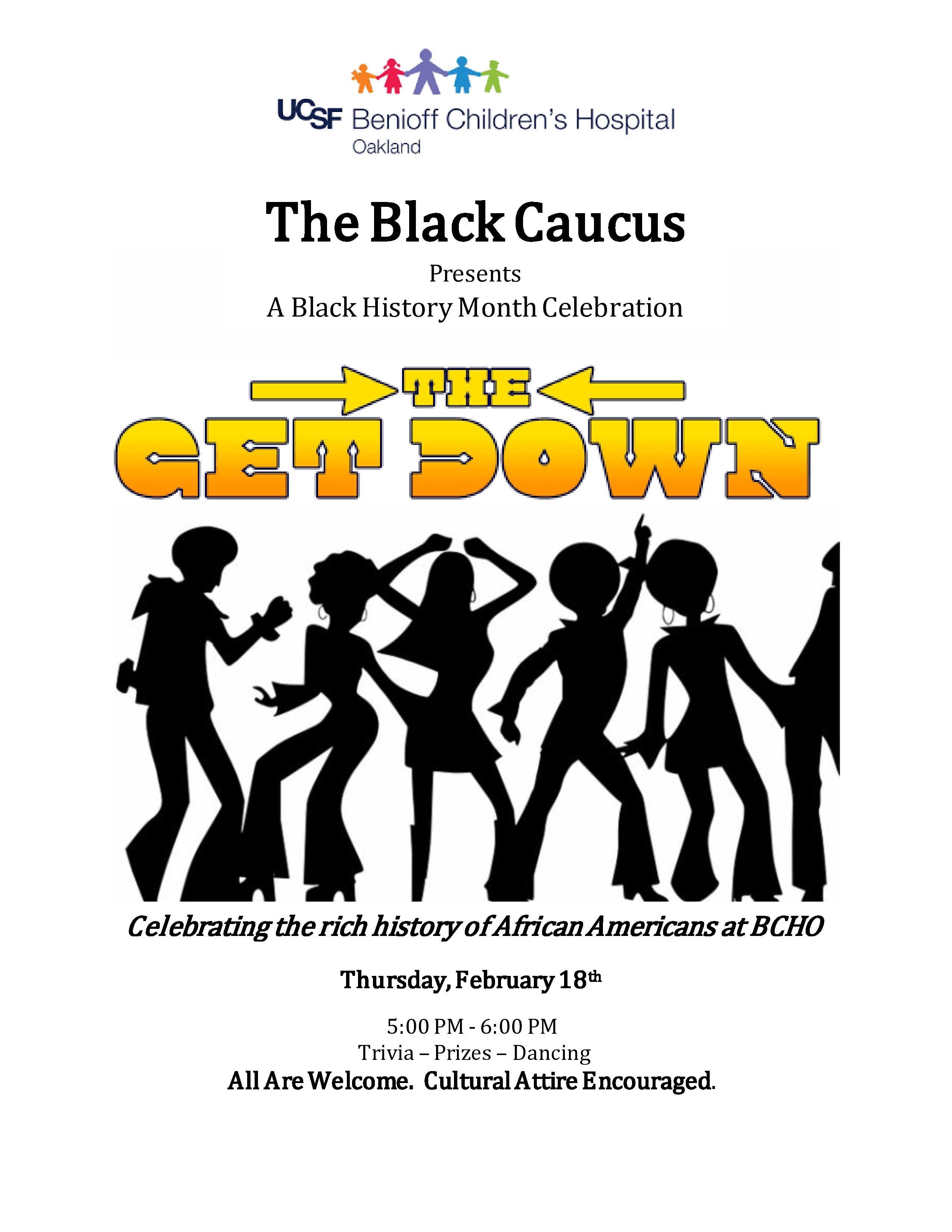 The Black Caucus is hosting The Get Down, a social mixer with trivia, prizes, and dancing. Come join the celebration of the rich history of African Americans at BCH, while dancing to a compilation of African American music through the decades, playing a trivia game highlighting the incredible roles of African Americans in history, and winning prizes!!! All are welcome. Cultural Attire is encouraged.
Thursday, February 18, 2021 | 5 pm - 6 pm 

In honor of Martin Luther King Jr. holiday 2021, we launched the "See Us" portrait project. Organized by the UCSF Benioff Children's Hospital Black Caucus, the project features portraits of our Black, Indigenous and People of Color (BIPOC) colleagues across our campus to celebrate the diversity that makes our community strong.
Our goal to create a sense of belonging for our patients and staff by enhancing diversity, inclusion, racial justice, and health equity. This is a continuation of the important work we started through our DEI Council in 2020. We encourage everyone to think about how we can leverage our resources to advance this important work.
The portrait series was launched on the OPC digital donor wall in the Oakland campus on January 14, 2021, followed by the installation of framed portraits throughout our Oakland campus.
The See Us Project Mission Bay was launched in 2022, featuring inspirational portraits of BCH San Francisco BIPOC staff and providers. The goal of this project is to uplift, encourage, and celebrate our underrepresented BIPOC colleagues who are dedicated members of our organization and are nominated by staff. We also want to create a piece that reflects the diversity of our incredible team, while inspiring our community and potential healthcare workers of the future.
Click HERE to view the webinar held on Wednesday, February 24, 2021.
Founded in 1968, The Black Caucus serves as an instrument of change, community building, and professional support. As the oldest culturally-based affinity group in the UC System, the Black Caucus is built on a foundation of social justice advocacy. During the Civil Rights Movement Black workers at UCSF, known as the "basement people" because of their disparate working conditions, went on strike to advocate for change. The Janitors Strike at UCSF was the catalyst for institutional change that resulted in recruitment and retention efforts for historically underrepresented students, faculty, and staff. Current leaders of the Black Caucus strive to uphold the legacy of our founding members. 
The BCH (Benioff Children's Hospital) Black Caucus is a combined Oakland/San Francisco chapter of the larger UCSF Black Caucus established in 1968 from the direct action of UCSF staff who advocated for change.  Our BCH Black Caucus was formed in 2020 by Stephanie Brown and Abdur Shemsu, for the same reason. 
---
The BCH community came together to reflect on a country where Black lives mean so little that violent killing after violent killing has become a norm and where African Americans are disproportionately affected by the COVID-19 pandemic. For African Americans this moment is only a convergence of all of the racial violence, police brutality, health disparities, wealth gap and lack of access to education that has been the very fabric of the U.S. for 400 years.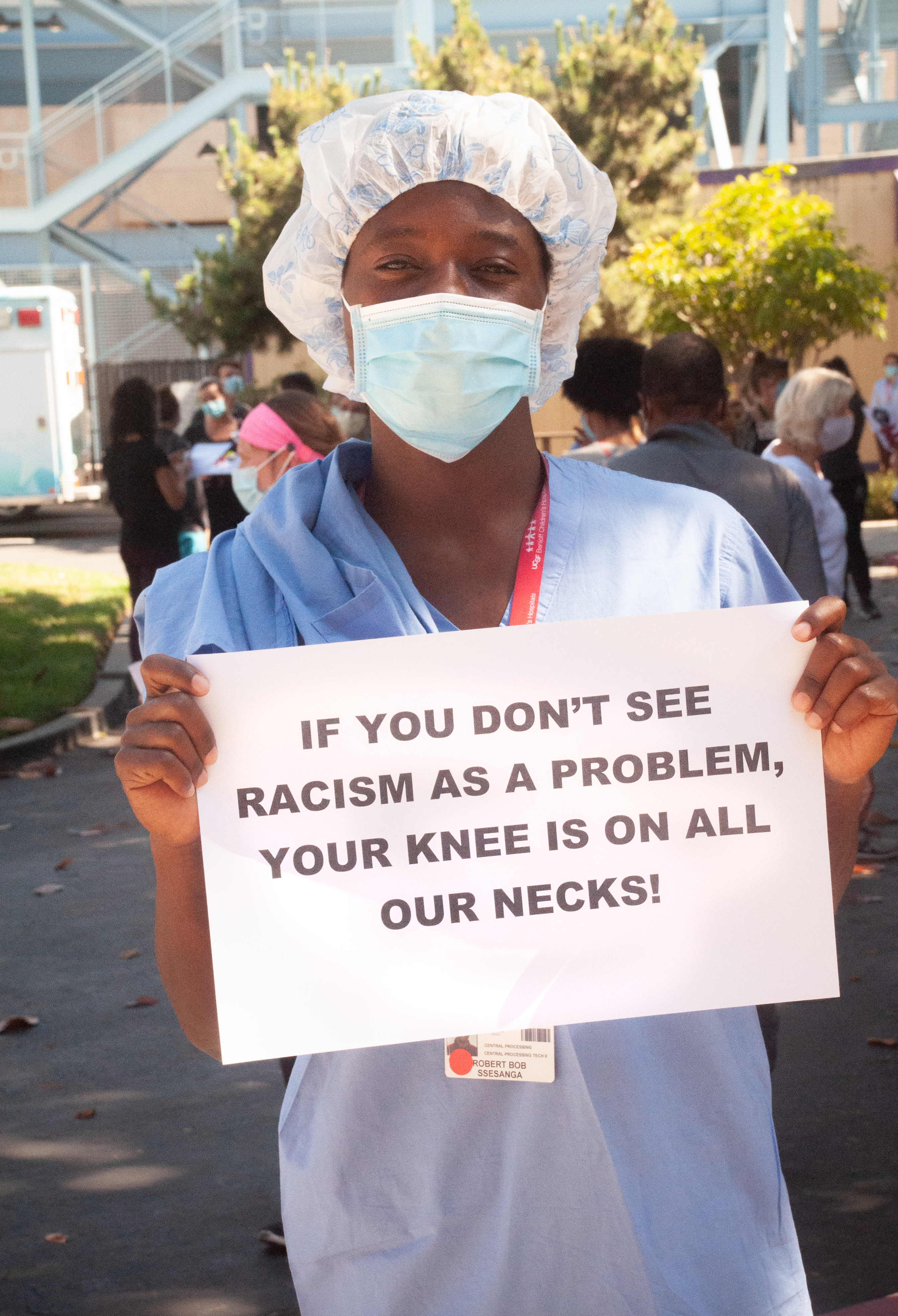 BCH hosted 3 town halls on Colliding Pandemics: Loss, Grief & Race during COVID-19. At 3:30 pm on June 3, 2020, both BCH Oakland and Mission Bay campuses took a moment to reflect and express solidarity on the current events involving the deaths of George Floyd, Ahmaud Arbery, Breonna Taylor and countless other African Americans. 
---
VIDEOS - Black History at BCH 
Black-focused Programs and Initiatives at UCSF