Welcoming Remarks
Greetings, Benioff Children's Hospital faculty. The members of the Miller-Davis-Jenkins Society (MDJS) would like to start 2023 with an open invitation to individuals who identify as Black and African American faculty (physician, nursing, dentistry, PhD) who primarily work with BCH or Pediatric care to join the MDJS. Interested individuals, please email: [email protected] to be added to the community's listserv. On behalf of the Society, we look forward to hearing from you and welcoming you as a member.
MDJS was formed to create a community for Black/African American faculty within the Benioff Children's Hospital system. The number of Black/African American faculty members at UCSF is significantly lower than the number in the communities we serve. This organization was created to foster professional connections, partner with and support each other in our academic work, provide mentorship, and to enhance the recruitment and retention of Black/African American faculty.
MDJS hopes to engage with the broader UCSF and BCH communities to facilitate and support the recruitment and retention of Black/African American faculty and synergistically engage with broader diversity, equity, inclusion, belonging, and anti-racism initiatives.
Our Mission is to:
Foster a community among Black faculty across BCH campuses and enhance the experience of Black faculty at BCH. 
Create an infrastructure to increase recruitment, retention and promotion of Black faculty within BCH.
To recognize and leverage our talents, voices, and unique perspectives as a value-add resource to BCH's overall mission of becoming a more diverse, equitable, inclusive, and anti-racist institution.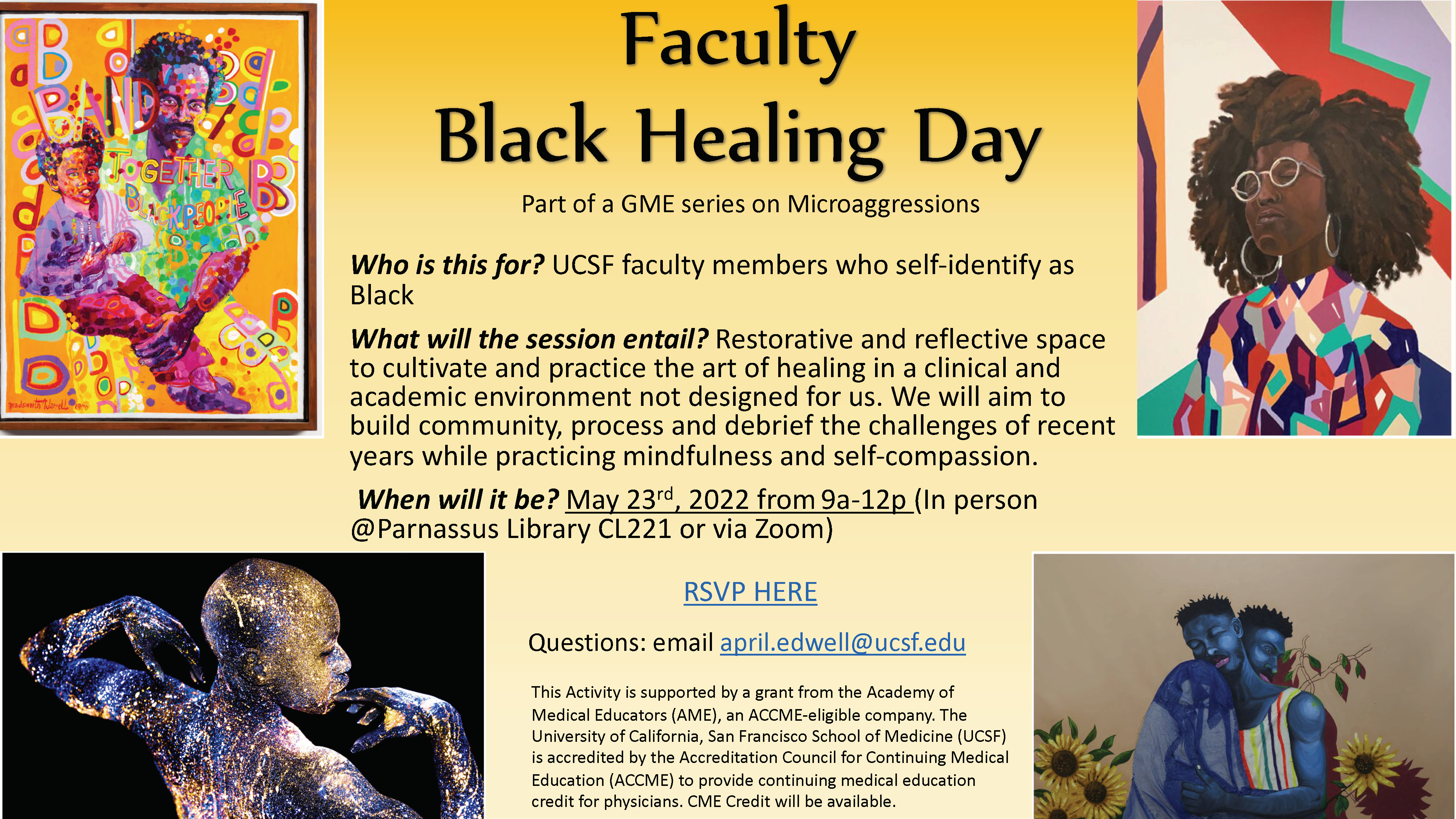 Faculty Black Healing Day
May 23, 2022 | 9 am - 12 pm
(in person @ Parnassus Library CL221 or via Zoom)
Restorative and reflective space to cultivate and practice the art of healing in a clinical and academic environment not designed for us. We will aim to build community, process and debrief the challenges of recnet years while practicing mindfulness and self-compassion.
Part of a GME series on Microaggressions
---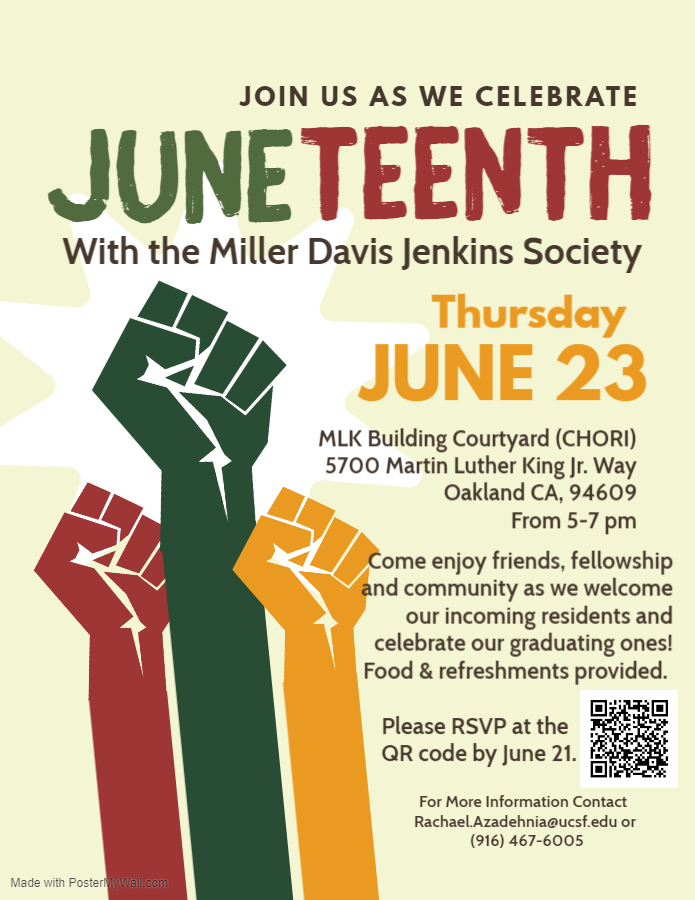 Juneteenth 2022
Thursday, June 23, 2022 | 5 - 7 pm 
MLK Building Courtyard (CHORI)
5700 Martin Luther King Jr. Way
Come enjoy friends, fellowship and communicty as we welcome our incoming residents and celebrate our graduating ones! Food & refreshments provided. 
---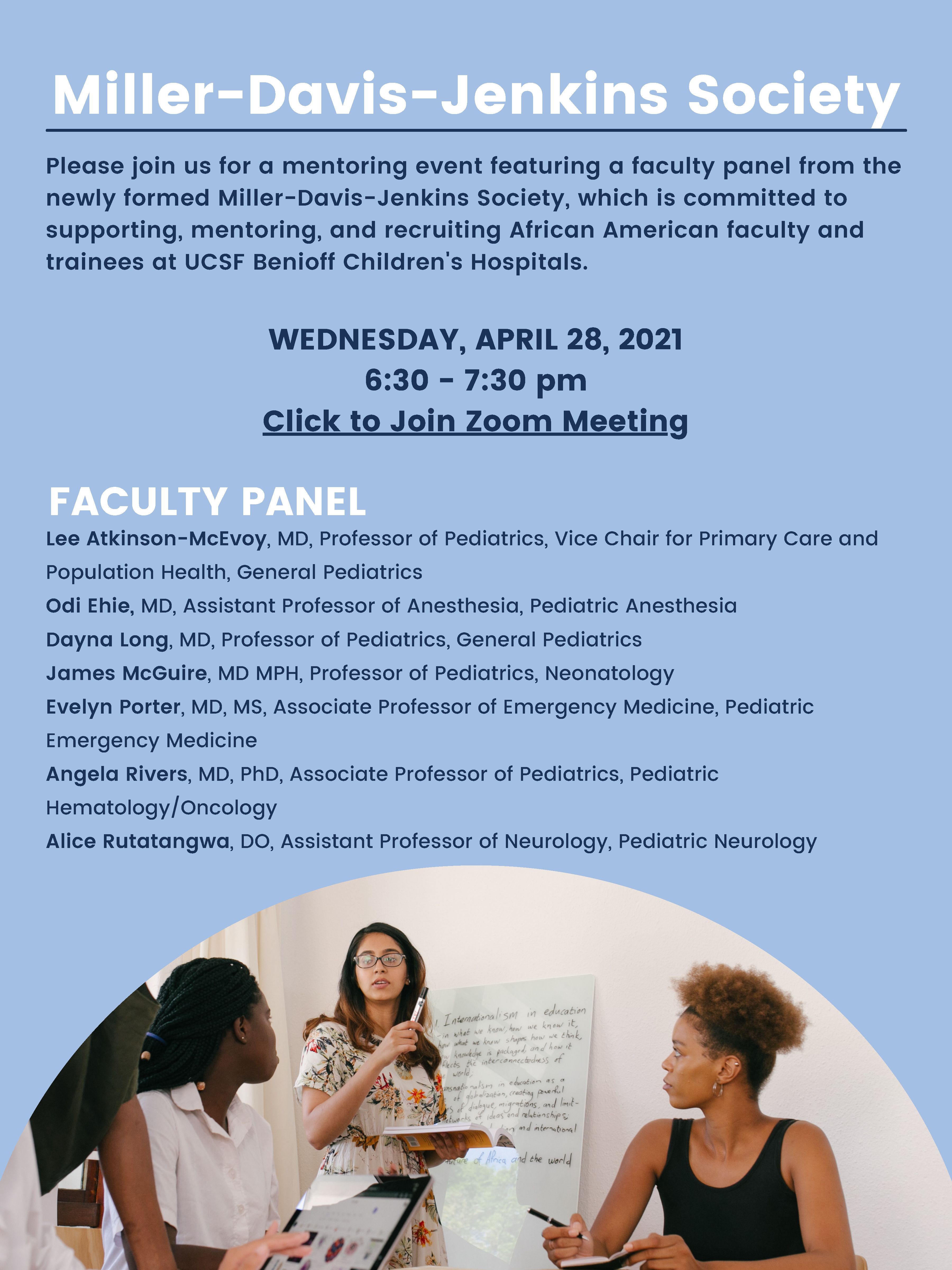 Mentoring Event
Wednesday, April 28, 2021 | 6:30 - 7:30 pm
Please join us for a mentoring event featuring a faculty panel from the newly formed Miller-Davis-Jenkins Society, which is committed to supporting mentoring, and recruiting African American facutly and trainees at UCSF Benioff Children's Hospitals
In Spring of 2020, with the black drop of a global pandemic, the murders of Ahmaud Arbery, Breonna Taylor and then George Floyd occurred, there was an unfiltered view into injustice that Black Americans face.  Our internal UCSF response identified and shone a lens on what Blacks at UCSF experience.  While focusing on behaviors and systemic structures that drove those murders, as Black faculty we recognize that systemic structures exist here at UCSF that create experiences of racism, bias, and microaggressions.  With this focus, many of us as Black Faculty looked to see similar faces to share community and in the time or social distancing and Zoom, we found ourselves alone.
In the Fall of 2020, Lee Atkinson-McEvoy, MD (Professor of Pediatrics) created a space and invited Black Faculty within the UCSF Benioff Children's Hospital Community to convene.  The initial focus was on creating a safe space.  We recognized the low number of Black Faculty within BCH despite a developed pipeline, the difficulty in having appropriate support for the work that we do to support trainees from URM backgrounds and to be the expert on DEI issues within our academic spaces, and the challenges to having sufficient mentorship and supports to remain at UCSF.  With those discussions, our group quickly transitioned into organizing to improve the recruitment, mentorship and retention of Black Faculty within the UCSF Benioff Children's Hospitals.
April 2021 re-named the Miller-Davis-Jenkins Society.  This name honors our pioneers in children's health at UCSF Benioff Children's Hospitals.
Carol Miller, MD: 1st Faculty at UCSF Children's Hospital
Julian Raymond Davis, MD: 1st Fellow at UCSF in Pediatric Hematology-Oncology
William Jenkins, MD: 1st Resident, Cardiology Fellow and Faculty at Children's Hospital Oakland
The Miller-Davis-Jenkins Society seeks to foster community, support mentorship and boost academic success for Black and African American Students, Residents, Fellows and Faculty with a focus on the UCSF Benioff Children's Hospitals.  We do this through engaged and active partnership with existing Diversity, Equity, Inclusion and Belonging work that exists at UCSF, UCSF Health and the Benioff Children's Hospitals.
Since forming, we have partnered with the leadership of the Benioff Children's Hospitals for support.  In addition we have created partnerships with the UCSF Office of Diversity and Outreach, the Black Caucus and the UCSF BCH Diversity, Equity, Inclusion and Anti-Racism Council (BCH DEI/AR Council).  We have hosted receptions that included trainees, partnered with Departments to aid in recruiting diverse faculty, and provided mentorship and sponsorship to support Black Faculty.
In January of 2022, we are entering into a formal partnership with the BCH DEI/AR Council to have an aligned approach to continue to provide support to improve the recruitment, mentorship and retention of Black Faculty at UCSF Benioff Children's Hospitals.
---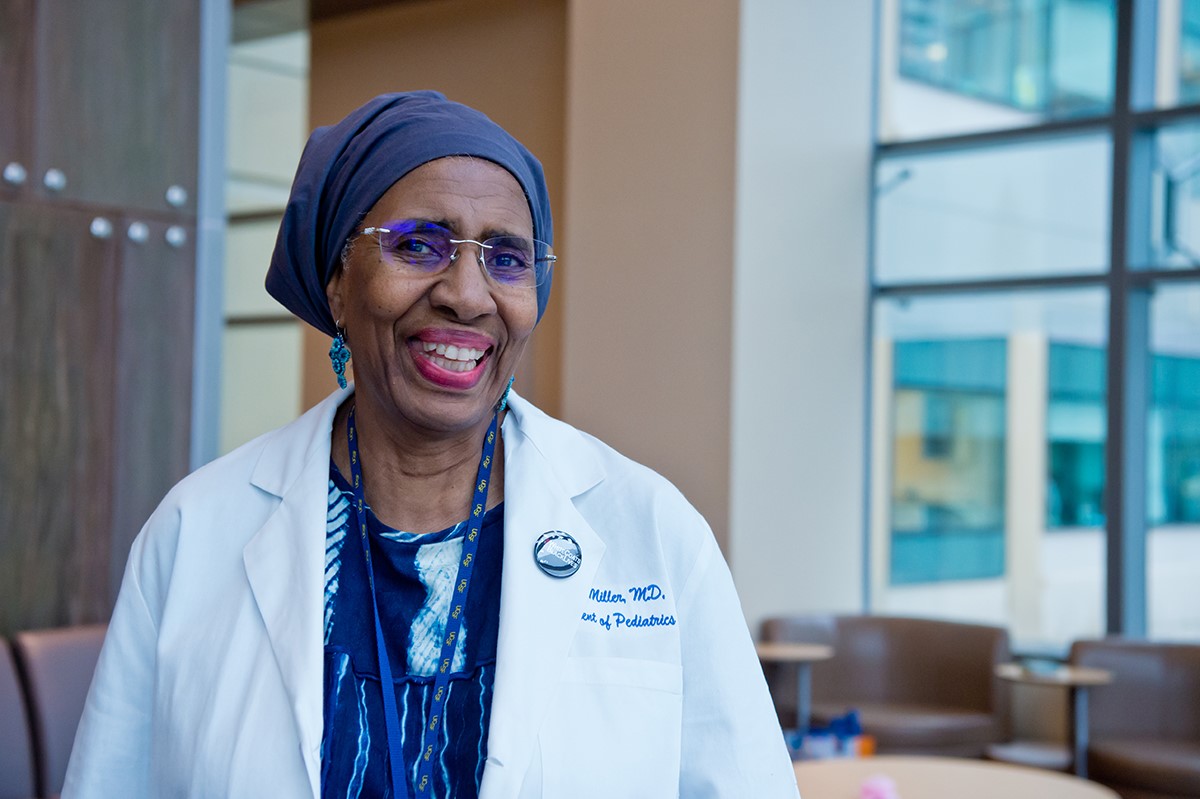 Carol Miller, MD, specializes in Neonatal-Perinatal medicine. She is the Professor Emeritus at the UCSF School of Medicine in the Department of Pediatrics. She was the first (and only for many years) Black Faculty within the UCSF BCH San Francisco Children's Hospital.  She works parttime staffing the BCH Mission Bay Newborn Nursery.  Her special interests include the primary care of infants and children with high risk conditions. In the community, she is the medical consultant for the Marin Department of Health and Human Services under the division of Maternal and Child health. She is also the co-founder and consultant for Healthy Families Marin Home Visiting. She retired from the BCH in 2019 after caring for San Francisco kids for more than four decades.
---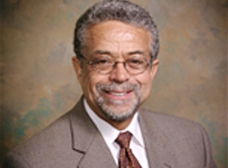 Julian Raymond Davis, MD, was the first Black fellow at UCSF in Pediatric Hematology.  After completing his training he had a long career treating children in Oakland. In 1981, he established East Oakland Pediatrics out of the need to bring quality medical care to the most underserved area in the state of California. Dr. Davis maintained a diverse practice and staff. He learned to communicate in several languages with his patients. He cared for his patients and his staff with enthusiasm and dedication for 38 years.
In 2017, Dr. Davis transferred his private practive into a La Clinica site, opening their newest clinical site, La Clínica Julian R. Davis Pediatrics. Located in a converted two-story house at 5461 Foothill Boulevard, the addition of the Davis Pediatrics site is helping La Clínica expand its presence in East Oakland and ensure that Dr. Davis' numerous patients — many of whom are Medi-Cal recipients — will be able to continue receiving high quality, culturally competent care. He retired in 2018 and moved to Madison, VA.
---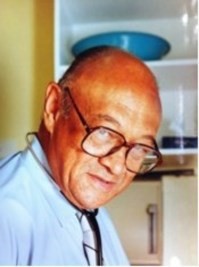 Dr. William Jenkins was the first Black Resident at UCSF BCH Oakland.  He also completed residencies in OB/Gyn and training as a fellow in Cardiology at BCH Oakland. Dr. Jenkins provided pediatric services to tens of thousands of underserved children in the San Francisco Bay Area, performing over 1 million patient examinations through his career. Dr. Jenkins received numerous awards throughout his career, including the 2001 Doctor of the Year from the National Medical Association. He will be remembered by the community for his generosity and the care he provided over his five decades of service.