Advancing DEI/AR Thinking in True North Boards
As part of our organizational goal to dismantle structural racism and embed Diversity, Equity & Inclusion (DEI) thinking in our every day practices, we are introducing a new probing question to the Coaching Kata in the Our People Pillar: 'what are the differences by race; ethnicity; and language (REAL)?'.
Our employees come from diverse backgrounds and bring with them rich cultural, social, and intellectual traditions that make our organization great.  However, we know that not everyone has the same access to decision-making, resources and opportunity in our society and our data shows that disparities at BCH are often impacted by our employees' race, ethnicity and language.
In accordance with our PRIDE values, our goal is to cultivate a culture that encourages collaboration, flexibility, and fairness to enable individuals to contribute to their full potential.  When we advance diversity, equity and inclusion we impact our team members' sense of Belonging which directly impacts their engagement and productivity.
By introducing DEI principles into our True North Boards and hardwiring DEI into our True North Board thinking, we are developing structures and strategies to equip leaders with the ability to manage diversity, be accountable, measure results, refine approaches on the basis of such data, and institutionalize a culture of inclusion.
In order to advance this thinking, managers must have the capacity to hold brave spaces in order to facilitate conversations about inequities related to REAL.  We have included a number of resources in this toolkit to support these efforts.
---
How to consider addressing the DEI Probe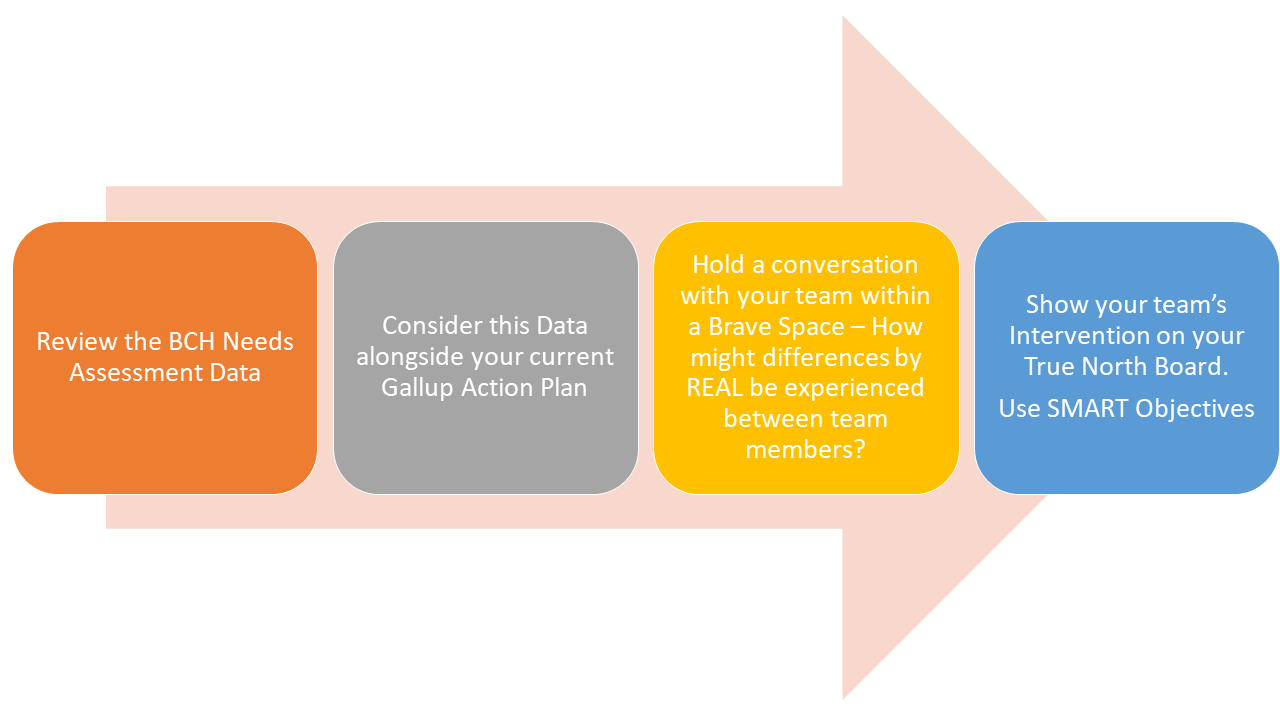 ---
Coaching Roadmap
Before we can begin to talk about the differences our employees may feel by REAL, it's important that we first understand the ways in which power and privilege show up in our workspace. We are all at different places along the journey of understanding REAL inequities. It is important to build in time for self-reflection and deepening our knowledge and skills. Please register for a Coaching Session before embarking on the steps of your Coaching Roadmap:
Building one's capacity to hold a brave space to facilitate conversations about REAL requires self-reflection and a commitment to educating oneself.  We recommend reviewing the shared language/definitions identified in this toolkit; and actively engaging in our Resources.  We highly recommend the LinkedIn Learning module Skills for Inclusive Conversations.
Step 2: PARTICIPATE in Coaching Kick-Off
You will be invited to participate in a one-time Coaching Kick-Off session with your BCH DEI Council Coaches. 
Format: 6-9 participants per month in facilitated coaching session with 2-3 BCH DEI Council Coaches.  90 minutes.
Step 3: REGISTER to attend monthly small group coaching sessions
In order to provide ongoing support, you will have the option to participate in a monthly small group coaching session.  Registration is required & we request that you indicate your objectives for the coaching session when securing your spot.
Format: maximum 6-9 participants with 2-3 BCH DEI Council Coaches – opportunity for breakout rooms.  60 minutes.  Third Thursday of each month at noon.  To register, please click here (link to come).
Step 4: BE ACCOUNTABLE to change
Take time to engage with the resources recommended in this toolkit; set goals for you and your team; engage in the coaching; join the monthly sessions at least once a quarter; listen; be open to feedback.

Coaching Session - 2 hour introduction coaching on Brave Space 
Thursday, October 14 at 11:10 am - 1 pm 
Friday, October 29 at 10 am - 12 pm 
Wednesday, November 17 at 10 am - 12 pm 
Tuesday, December 7 at 11 am - 1 pm 
 Register if you are a BCH manager and would be interested in participating in the Coaching Session.
Brave Space conversations related to REAL can be triggering. We have compiled some resources for you and your staff for additional support.  Reporting formal complaints can be found the on Reporting Your Concerns webpage. Resources for both UCSF and BCH Oakland are listed.  
Counseling Services for staff
As members of the UCSF Campus and Health community, the Faculty and Staff Assistance Program (FSAP) invites all faculty, staff, residents, postdocs, and clinical fellows to use our confidential employee assistance services, which are provided at no cost. We are staffed by licensed psychologists and postdoctoral trainees who provide confidential, brief psychological counseling to individuals and a wide variety of consultation services to the organization.
Claremont EAP - (for BCH OAK Staff Only)
Consultation & Referral - A cornerstone of our program is the management consultation process. When employees are having personal issues impacting the workplace, we can help with formal and informal referrals to EAP.
Critical Incident Response - When your workplace experiences a disruptive event, like death of a co-worker, robbery, natural disaster, accident, lay-off, etc., Claremont can help. A licensed counselor is available 24/7/365 to provide telephonic support. We can also provide an on-site counselor trained in critical incident response. We also offer printed materials for distribution, as appropriate.
---
UCSF Education
Books
How To Be An Anti-Racist by Ibram X. Kendi
White Fragility by Robin DiAngelo
Articles & Guides
A Special Thank You to Our BCH DEI Council Coaches!
Stephanie Brown
Susan Conrad
Luann DeVoss
Alicia LaFrance
Leanna Lewis
Anna Meyer
Alleysha Mullen
Max Rocha
Jason Selinger
Felicie Standley
Marsha Treadwell
Saun-Toy Trotter
George Weiss