Explore resources and guidance in support of Diversity, Equity, and Inclusion during the COVID-19 crisis.
UC San Francisco is featuring members of its community in a series of public service announcements to help build confidence in the safety and efficacy of COVID-19 vaccines.
---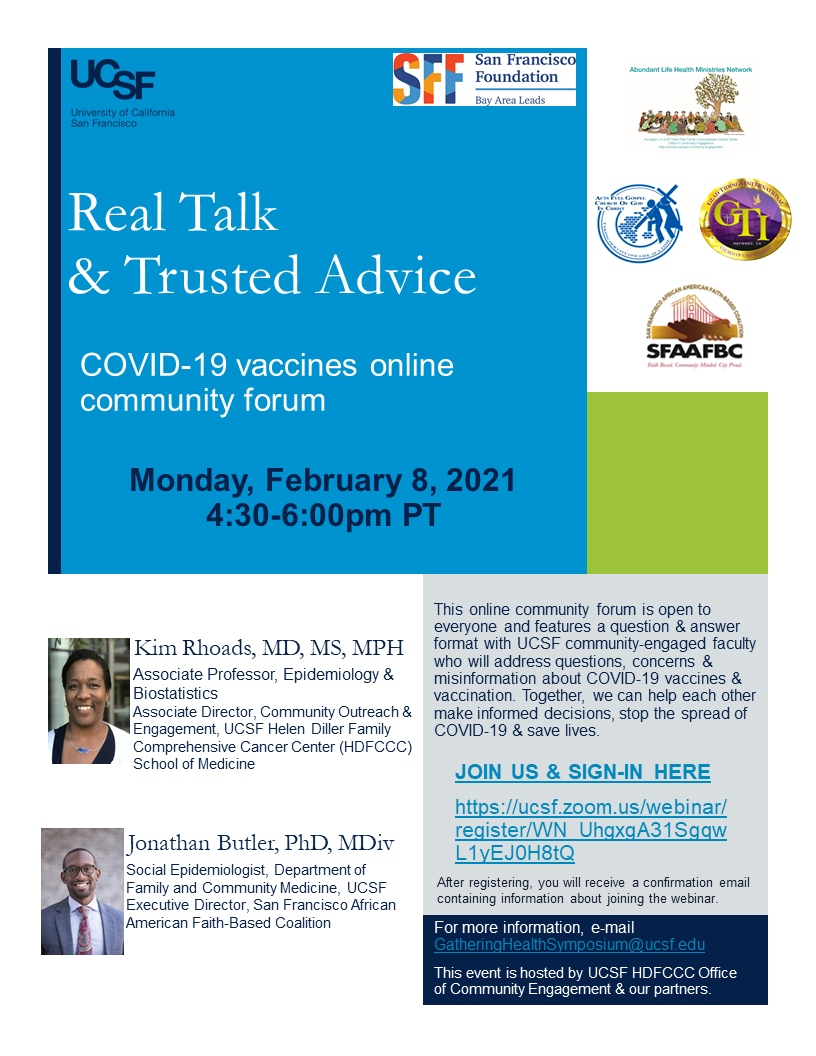 Monday, February 8, 2021
This event is hosted by UCSF HDFCCC Office of Community Engagement & our partners.
Presenters:
Kim Rhoads, MD, MS, MPH, Associate Professor, Epidemiology & Biostatistics Associate Director, Community Outreach & Engagement, UCSF Helen Diller Family Comprehensive Cancer Center (HDFCCC) School of Medicine
Jonathan Butler, PhD, MDiv Social Epidemiologist, Department of Family and Community Medicine, UCSF Executive Director, San Francisco African American Faith-Based Coalition
This online community forum is open to everyone and features a question & answer format with UCSF community-engaged faculty who will address questions, concerns & misinformation about COVID-19 vaccines & vaccination. Together, we can help each other make informed decisions, stop the spread of COVID-19 & save lives.
Click HERE to watch the webinar
---
Jacqueline Douge, MD, MPH, FAAP
Section on Minority Health, Equity, and Inclusion (SOMHEI)
Rhea Boyd, MD, MPH, FAAP
Section on Minority Health, Equity, and Inclusion (SOMHEI)
A powerful 20-minute video in which Dr. Rhea Boyd, graduate of our UCSF PLUS (Pediatric Leaders Advancing Health Equity) Pediatric Residency Program, discusses racial health inequities during a recent webinar sponsored by the American Academy of Pediatrics. Dr. Boyd provides a national perspective and summarizes what is wrong, and encourages us to step up and address the wrongs in a concerted, thoughtful and sustainable manner. 
---
The COVID Racial Data Tracker is a collaboration between the COVID Tracking Project and the Antiracist Research & Policy Center. Together, we're gathering the most complete race and ethnicity data on COVID-19 in the United States.
---
The Asian Pacific Policy and Planning Council (A3PCON) is a coalition of community-based organizations that advocates for the rights and needs of the Asian and Pacific Islander American (APIA) Community in the greater Los Angeles area, with a particular focus on low income, immigrant, refugee and other disadvantaged sectors of the population. A3PCON has created the Stop AAPI Hate Reporting Center to encourage all who have witnessed or experienced micro-aggressions, bullying harassment hate speech, or violence to documnet these incidences. Incident Report Forms are in multiple Asian languages and English.
---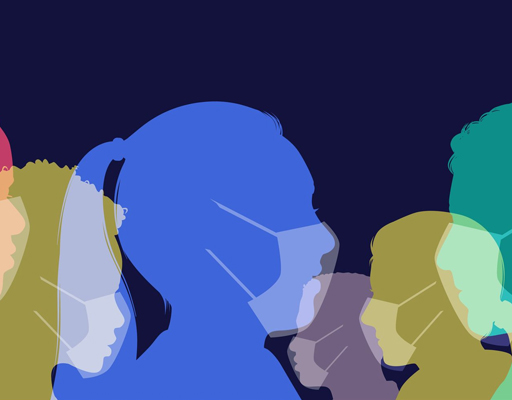 Racial Equity Tools is designed to support individuals and groups working to achieve racial equity. This site offers tools, research, tips, curricula and ideas for people who want to increase their own understanding and to help those working toward justice at every level – in systems, organizations, communities and the culture at large. COVID-19 Racial Equity & Social Justice list includes information that we hope will help communities and activists as they work to understand and respond to the moment and for the long haul. Our COVID-19 Resources are arranged in categories to help you sift through the material.
Articles - DEI and COVID19
Claremont EAP COVID19 Resources
Government COVID Resources and Data
Immigrant Resources: Alameda County Disaster Relief Assistance - Catholic Charities
Mental Health Crisis Resources
UCSF BCH COVID-19 Resources
The Conversation: Between Us, About Us - Kaiser Family Foundation 
This COVID-vaccine designer is tackling vaccine hesitancy – in churches and on Twitter – Nature, Feb 11, 2021
Fueled by a history of mistreatment, Black Americans distrust the new COVID-19 vaccines – Time, Dec 28, 2020
Kaiser Family Foundation COVID-19 Vaccine Monitor: January 2021 – Vaccine Hesitancy
COVID-19 vaccine hesitancy: 10 tips for talking with patients – AMA, Feb 1, 2021
Vaccine messaging acknowledges past racial traumas in health – Bloomberg, Sept 10, 2020
How to overcome COVID-19 vaccine hesitancy among Black patients – AMA, Dec 29, 2020
With painstaking effort, Black doctors' group take aim at COVID-19 vaccine hesitancy – STAT News, Jan 22, 2021